In the world
Journalists in Afghanistan Are Still Being Persecuted Two Years after the Establishment of the Taliban Regime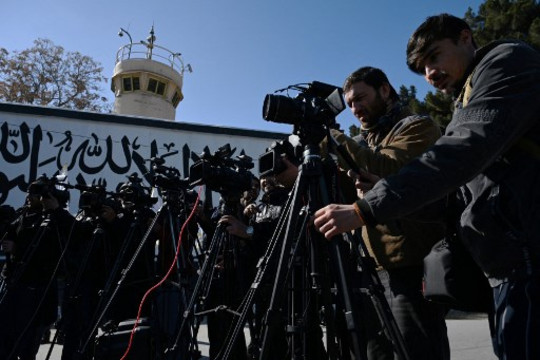 More than 80% of women journalists in Afghanistan have been forced to quit their jobs since August 15, 2021. According to a press release by Reporters Without Borders (RSF), two years after the Taliban regime took control of Afghanistan, the few journalists remaining in the country and abroad struggle to keep Afghan journalism alive in spite of repressions of the Taliban administration.
Out of approximately 12000 journalists, men and women, who worked in Afghanistan in 2021, more than two-thirds have quit their job, the international media organization reports. More than half of the 547 media outlets that were registered in 2021 have since disappeared, according to the Afghan Independent Journalists Association (AIJA). Besides, of the 150 TV channels, fewer than 70 remain; of the 307 radio stations, only 170 are still broadcasting. The number of news agencies has gone from 31 to 18.
"It gets worse every day… I've repeatedly been denied the right to cover events simply because I am a woman," says a journalist who still works for a TV channel in Kabul and who, for good reason, prefers not to be identified, according to RSF.
"As a woman journalist, I must think twice about everything I do," she said, pointing out that she has to wear a mask whenever she appears on camera. "Women journalists cannot participate in a talk show with men or ask them questions. Because of this, many women journalists were forced to abandon their careers. Many chose to leave the newsroom and to stay at home instead of feeling imprisoned at their desks," she adds.
"Nationwide the most impacted media outlets are the local ones," said Zarif Karimi, the director of NAI-Supporting Open Media in Afghanistan. "If things go on as they are, many more media organisations will soon be forced to close their doors. As a result, Afghanistan's journalists are currently experiencing an identity crisis," Karimi declared, according to RSF.
"On their own, these figures showing the extent of the Taliban destruction of the media would sicken anyone but that would be without taking account of the incredible resilience of Afghan journalists who, at home and abroad, battle daily to keep the flame of a free press alive. RSF stands at their side, providing them with emergency assistance and helping them to build a new free and independent journalism in Afghanistan," RSF's South Asia bureau writes.
It follows from the comments by a TV journalist from Kabul who also asked not to be identified that censorship is the main objective of the current authorities: "The Taliban tolerate no opposition to their policies. We have no supporters here. We just know that we must deal with it."
Analyzing the "11 journalism rules" imposed by the Taliban after they took power in 2021, RSF raised the alarm from the very start saying that they opened the way to tyranny and persecution, along with many other regulations restricting journalistic activity that followed. At the same time, according to RSF, journalists also suffer from an almost complete absence of laws providing them with protection.
Exile as a New Ordeal and Also as an Opportunity for Afghan Journalists
Zaki Daryabi, the founder of Etilaatroz ("The Day's News") media outlet, told RSF: "We wanted to continue working but it soon proved far too dangerous and some colleagues were tortured by the Taliban." Daryabi ended up fleeing Kabul in October 2021, two months after the Taliban takeover.
Before he left, his brother, Etilaatroz reporter, and a cameraman were arrested and beaten by the Taliban police while covering a women's protest. After that, Zaki Daryabi and other staff members of the newspaper managed to leave the country. In the United States, Zaki Daryabi was finally able to reassemble part of the Etilaatroz team that had been scattered across the globe, in order to relaunch his newspaper and the online newspaper KabulNow. These two media outlets now have ten employees based in the US state of Maryland and other 30 or so journalists who are correspondents within Afghanistan.
"The most amazing thing is that our online readership has increased significantly over the past two years, and the territory we cover is wider than before. Our presence on social media has also ramped up a lot during this period," Daryabi says.