Interviews
Jeanne Cavelier of Reporters Without Borders: "In democracy there is always a way to react and take proper measures against those not following the rules"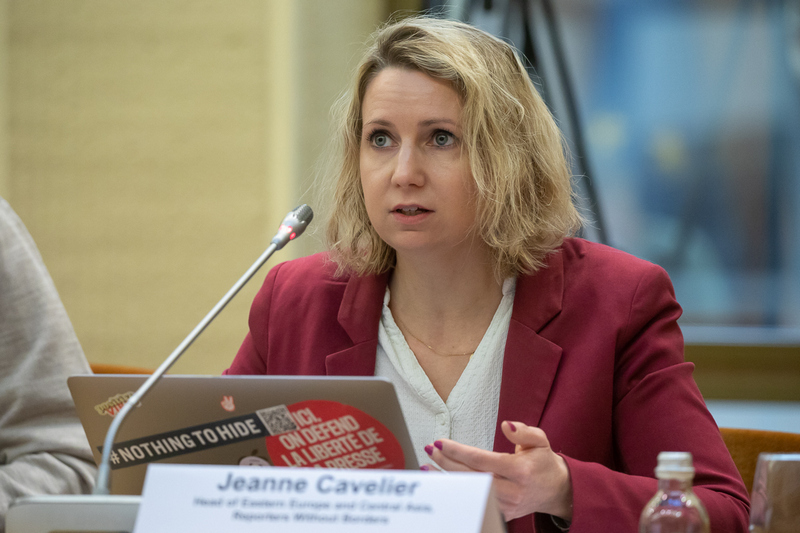 At a workshop organized by the Independent Journalism Center (IJC) in Chisinau, Jeanne Cavelier, head of Eastern Europe and Central Asia desk of Reporters Without Borders (RSF), spoke about the quality of the media in Moldova and the jump in the Press Freedom Index. In an interview for the Media Azi portal, she analyzed the key problems of the media, methods of combating propaganda, and other threats to the media at the national and regional level.
Media Azi: From your perspective, what are the key problems of the media in Moldova today?
Jeanne Cavelier: From the perspective of press freedom environment, I think that the most problematic issues I have encountered here are the illegal lawsuits against media. Journalists therefore waste their time, money, and other valuable resources in order to defend themselves in court, rather than concentrate on the actual work they are meant to do. This kind of practices became fewer now than a couple of years ago, although RSF considers the Government can do better to protect the media field by adopting EU regulations in this regard, I mean Daphne's law to protect journalists from abusive lawsuits [named after Maltese investigative journalist Daphne Caruana Galizia]. Also, media outlets in Moldova are facing financial hardship; they rely mainly on donors, which is not a very sustainable way of doing press. Moreover, it is really hard to sustain a diverse media environment on such a small advertising market that Moldova owns. For the economic problems of media outlets, there has to be intervention from the state in order to regulate a fair distribution of advertising between the media outlets that might need it the most.
What can you tell us about Eastern Europe in this context?
Well, when speaking about the Eastern part of Europe, I think that the most prominent issues for press freedom are propaganda and misinformation. In this environment of sometimes pure propaganda, it is really hard to distinguish real news from the ones that mislead the audiences. This is why we promote the Journalism Trust Initiative (JTI), one of the RSF tools to fight against Russian propaganda. I won't speak about Chinese propaganda, because it is beyond my area of expertise, but it is also very aggressive.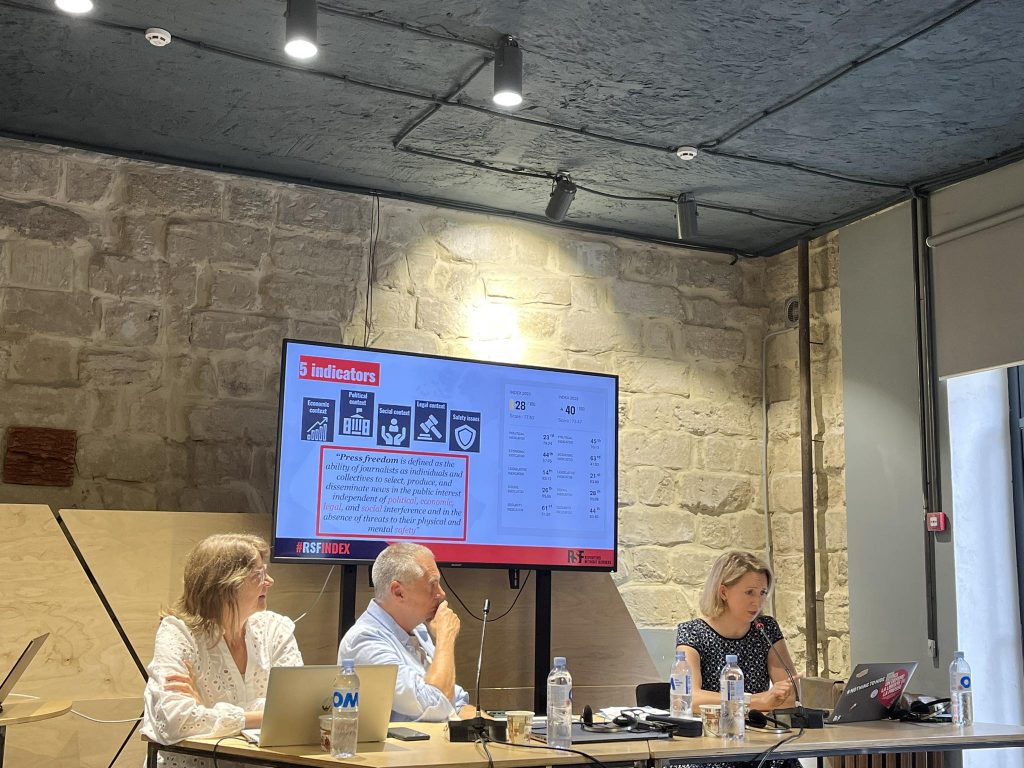 What are your means to fight back propaganda and support good quality journalism?
In this respect, RSF tries to provide support for exiled journalists, especially from Belarus, but also for Russian journalists working for independent media outlets from exile, so that they are able to offer to their audience a reliable source of information. When you, as a journalist, are displaced, you face a lot of administrative barriers, you have to find a place to live, a school for your children, you struggle with the new language of the country you're now in, and so on and so forth. RSF has launched the JX Fund, the European Fund for Journalism in Exile, and we select journalists eligible to receive support through this fund and be given the chance to go back to work as soon as possible. We helped Novaia Gazeta Europe, for instance, and other outlets.
To fight against propaganda, RSF also backs the Collateral Freedom initiative. It circumvents Internet censorship by means of a strategy in which "mirrors" or duplicates of the censored websites are created on international servers belonging to the world's Internet giants. If a country wants to block access to the mirrors, it must also deprive itself of access to all the sites and services hosted on these servers, which would inflict significant "collateral damage" on its own economy. Meduza, for example, still inform their audience in Russia through such a mirror site of theirs, sustained on European servers.
Another project to be launched soon is the Satellite Package. EUTELSAT, one of the world's leading satellite operators, was broadcasting Russian propaganda channels even after the war in Ukraine started, so we decided to legally fight back, and we won the case. Moreover, we thought we could negotiate a better deal, in order for EUTELSAT to broadcast reliable Russian-speaking media content in Western Russia, Middle East, Central Asia, and in Eastern Europe, as well, regions where Russian propaganda is widely spread. I think this is very important for Moldova, to get quality information from the Russian side. We want to include Moldovan channels, as well, but this is just an initiative at the moment.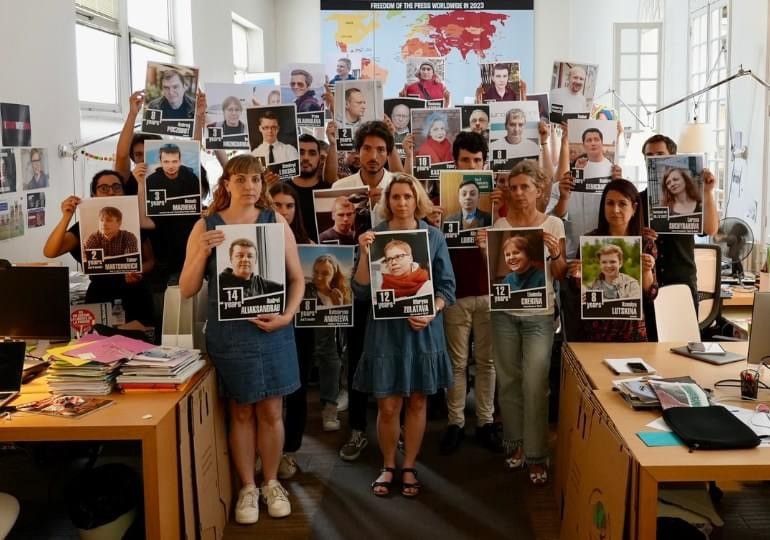 Is the war in Ukraine and our own national security good enough reasons for the Government to take harsher measures against the media channels which do not comply with being transparent and truthful?
It has to be proportionate. We have the same thing in Ukraine. Sometimes we publicly denounce abuses from the authorities in Ukraine, because we think that the security reasons invoked are not proportionate and abuse happens. When it comes to Moldova, we criticized, in fact, the decision to cease the activity of six pro-Russian channels. Not the decision itself raised questions, but the fact that it was not explained properly to the public. The decision making was not transparent enough, from our perspective. This kind of acts can lead to abuses, this is why we offered our support to local organizations which were criticizing this Government's move.
Is there a milder way of getting rid of politically enslaved press without damaging the freedom of expression?
The correct route is to promote independent and correct sources of information and apply proportionate sanctions against unreliable channels. We're not big supporters of any kind of banning against media, because in democracy there is always a way to react and take proper measures against those not following the rules.
You lived and worked in Russia for a few years. I guess this gave you a good understanding of their way of being, of doing press, and even of influencing other countries. Moldova has been feeling this influence for years. What should the state do to become independent of ideology and be able to speak for itself through independent and strong media?
The fake content industry is a worldwide problem, specific not only for post-soviet countries, as Moldova is. There is not a specific answer, this is why RSF uses and promotes every tool and resource possible to support the countries where press freedom is affected. Fact-checking is a good method of debunking misinformation, but not quite as good as international cooperation between states can be, in order to enforce verified and trusted sources of information. Otherwise, it is up to every media outlet on its own and the public. If you really want to find a reliable source, you can find one. The most efficient way is education, the so-called media literacy, proper school programs to educate children and adults how to select the information that is being consumed. It has to be a worldwide effort to boost only trustworthy news channels.