News
Regional and Local TV Channels' Dilemma in the Context of Transition to Digital Terrestrial TV: "I'm Not Ready to Switch to the Digital Sources Today"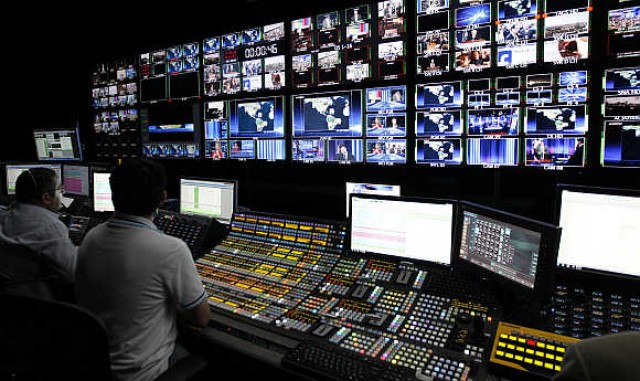 May 1 is the deadline for broadcasting the analogue television signal: after that, TV channels will be able to broadcast only in digital format, as the state previously assumed its responsibility to switch to digital TV in 2015. Media experts mention that, during all this time, Radiocomunicatii network and TV service provider managed to found two national digital multiplexes, and no regional ones were created. In such circumstances, local and regional TV channels claim they do not have enough money to pay for a place in the national digital multiplex, and the audience members who only have old TVs unable to receive digital signal are deprived of access to information. Media Azi discusses eventual solutions with the managers of several TV channels outside Chisinau.
Ana Golubenco, Elita TV Director from Rezina, affirms that the channel broadcasts analogue signal in six districts, and that the representatives of the National Agency for Regulation in Electronic Communications and Information Technology (NARECIT) have already contacted her so that she could submit the technical licenses she holds in order to cease the analogue signal. "I'm not ready to switch to the digital sources today. Even if they offer me a place in the national multiplex, I won't be able to pay 5.000 Euros per month," Ana Golubenco said.
The media manager mentioned that recently, due to the increase in the transmitter maintenance costs, she reduced signal broadcasting hours to save money. "We kept trying to cease it for a while – not 24 hours a day, but six hours a day all the time. Electricity was very expensive. But even for six hours, I had to pay 3 000 – 5 000 lei per transmitter, just imagine how much four transmitters cost! We had 1 kilowatt transmitters," she added.
ACCESS TO INFORMATION WITH OLD TV SETS
Ana Golubenco emphasizes that some citizens prefer to continue watching TV using terrestrial analogue signal and simple antennas, because they have no money to pay for services of cable operators who have many channels in their grids. "A year ago, some of the villages did not have Moldtelecom or the Internet, they had nothing at all. Even now, there are those who don't have the Internet," the TV channel administrator says.
Andrei Bargan, Media TV channel director from Cimislia, also confirms that some residents of the district request access to the programs of the local TV channel via the analogue system, which ceased at the end of last year. "People keep asking us why we are not on the air, because not everyone has a cable. They are used to it. I was reluctant to lose the audience from Cimislia, but in four months, we actually lost a large part of it. People say when they meet me, 'Mr. Andrei, we would like to keep watching.' I tell them about Moldtelecom and Starnet, and they reply, "You're right, but we would like to watch TV here, in the villages, they way we used to. Where have you disappeared?' Retired people tell me, "You promised you'd start broadcasting after May 1, but you don't, and we're about to lose our trust in you," Andrei Bargan confesses.
In her turn, Vera Bulgaru, Drochia TV channel administrator and President of the Association of Independent Regional Broadcasters, mentions that, currently, there are only two TV channels left at the regional level, and they keep broadcasting in analogue format. "Switching to digital TV is really necessary. Of course, first of all, the audience has to be prepared; they have to be already able to use digital technologies, so that when the transition takes place, the TV would already have its viewers. In our country, however, this process stopped after analogue licenses terminated. People are left without any sources of information, especially local residents," Vera Bulgaru says.
She specifies that they currently broadcast media services only via cable, though some citizens still would like to watch their broadcasts in analogue format. "People would come to the studio and say they could purchase an antenna for 100 lei and watch 5-6 channels for free, and it was enough for them. But as electricity prices grow, there will be increases in cable costs, and it's a problem for people, especially in the countryside," Vera Bulgaru remarks.
LOW-COST SOLUTIONS
According to Andrei Bargan's calculations, constructing a classic digital regional multiplex would cost approximately 100 000 Euros. "We're unable to pay enough to be included in a national or regional multiplex if Radiocumunicatii or other companies create it," he insists. He hopes Media TV could reach the regional multiplex using grants, and after that, a contest for using the frequency for Cimislia, Leova, Basarabeasca, and Hincesti districts will be announced.
Vera Bulgaru believes that the digital signal broadcasting issue could be solved with relatively low costs. She would like to broadcast digital signal via her own transmitter, which she intends to procure from a grant. "The expenses are not as enormous as they might seem. All the local stations are present online. You can put 15 channels in a single digital transmitter. I could install a transmitter on my digital frequency from the multiplex in Drochia and broadcast there via the Internet. Channels can be taken from the Internet, introduced into the transmitter, and offered to the audience, the signal is broadcast, and people have an opportunity to watch it for free. As the local channels, we already have an antenna and a transmitter. An analogue transmitter has to be replaced by a digital one," Drochia TV representative suggests.
Ludmila Topal from Bas TV channel in Basarabeasca mentions that their provider is not interested in broadcasting in a eventual regional multiplex, not to mention the national multiplex, where the monthly fees reach 5 500 Euros. The channel broadcasts via the cable network their company owns, and the media content promotion is more focused online. "We're still thinking about joining the national network, but we haven't reached any final decision yet. Maybe we could choose Moldtelecom, but we have to think carefully whether it's really worth it. I know many of our colleagues have joined such networks, but it has not had any impact on their advertising amount. We're more focused on online," Ludmila Topal says.
OPERATION "SAVE RADIOCOMUNICATII": WHY THE AUTHORITIES WON'T CRY IF REGIONAL TV CHANNELS DISAPPEAR
Ion Bunduchi, Electronic Press Association Executive Director, claims that the latest legislative amendments regarding the transition to digital terrestrial television were intended for "saving Radiocomicatii" which lost the sources of income from this activity with the cessation of the analogue system. "Radiocomunicatii created two national digital multiplexes and could not 'fill' even the first one. The tariff was exaggerated, some TV channels avoided it, and the others did not take their place; and if there are fewer channels left, the tariff grows, because a multiplex cannot be put into operation only partially. To prevent the radiocom from going bankrupt, a very sophisticated bill was drafted, but that was its real goal – to help it survive. Eventually, after a long discussion with the civil society, we reached today's formula – the radiocom is subsidized from public money, for a certain period of time, in order to lower the tariff, so that the channels could pay for it. Consequently, all the channels in the first multiplex are or will be indirectly paid for with our own money. But something is supposed to be done, because Moldova 1 is the only national channel to broadcast in analogue. Stopping the analogue means freeing a frequency band which could/will be used for the 5G technology," Ion Bunduchi explains.
The expert mentions that the state created two national multiplexes and no regional ones, and local and regional TV channels have always been advised to gather their resources to found a regional multiplex and broadcast via it. "What will happen to the local/regional ones? Some won't be affected by this interference, so that they might continue broadcasting the way they used to; others would have to switch to cable and broadcast only via cable, searching for subscribers. They could also broadcast online. That is, there are certain alternatives to prevent them from disappearing, but they have to keep their audience somehow. It's like the newspapers that can't be printed on paper anymore. The authorities, at least, didn't cry when printed newspapers started disappearing, and they certainly won't cry if local or regional TV channels disappear, too," Ion Bunduchi remarks.
"DEFECTIVE" DEVICES OR INSUFFICIENT STATE INVOLVEMENT?
At the same time, the issue of providing citizens who own old TVs which cannot receive such signals without special devices with digital signal converters is still relevant. Andrei Spinu, Minister of Infrastructure and Regional Development, who is in charge of the field of communication infrastructure, mentioned at the meeting of the Parliament on February 17, while presenting the draft law on amending the legislation in this regard, that, according to the State Budget Law for 2022, 4.5 million lei were provided for converters for families who are granted social assistance. At the same time, according to him, at that moment, there were over 800 converters to be distributed to families in need of social assistance in the ministry's stock. Andrei Spinu also said that, during the two previous stages of providing converters in 2018, 2019, and 2020, approximately 23 000 families were offered these devices. "On the market of the Republic of Moldova, convectors can also be purchased at home appliance stores or online. Most new TV models, except the cheapest ones, are already equipped with incorporated modules for receiving digital signal," Andrei Spinu says.
On the other hand, according to Andrei Bargan, some citizens who were issued free digital signal receivers from the state representatives claim that they become defective after a period of use. He does not exclude that the reason is insufficient knowledge about the use of these devices. "About 20-30 persons, especially old people, have come to me, saying, 'Mr. Andrei, this corobca (box) is broken. Please, come and fix it!' (…) A social worker gave these devices to them, but did not think about the relevant service: they have to be installed, and their settings have to be adjusted, etc. It may not be complicated, but the people from the countryside believe that the person they have received the device from is actually responsible for the way it functions," Andrei Bargan says.