News
Four TV channels penalized due to reports on the Dodon family case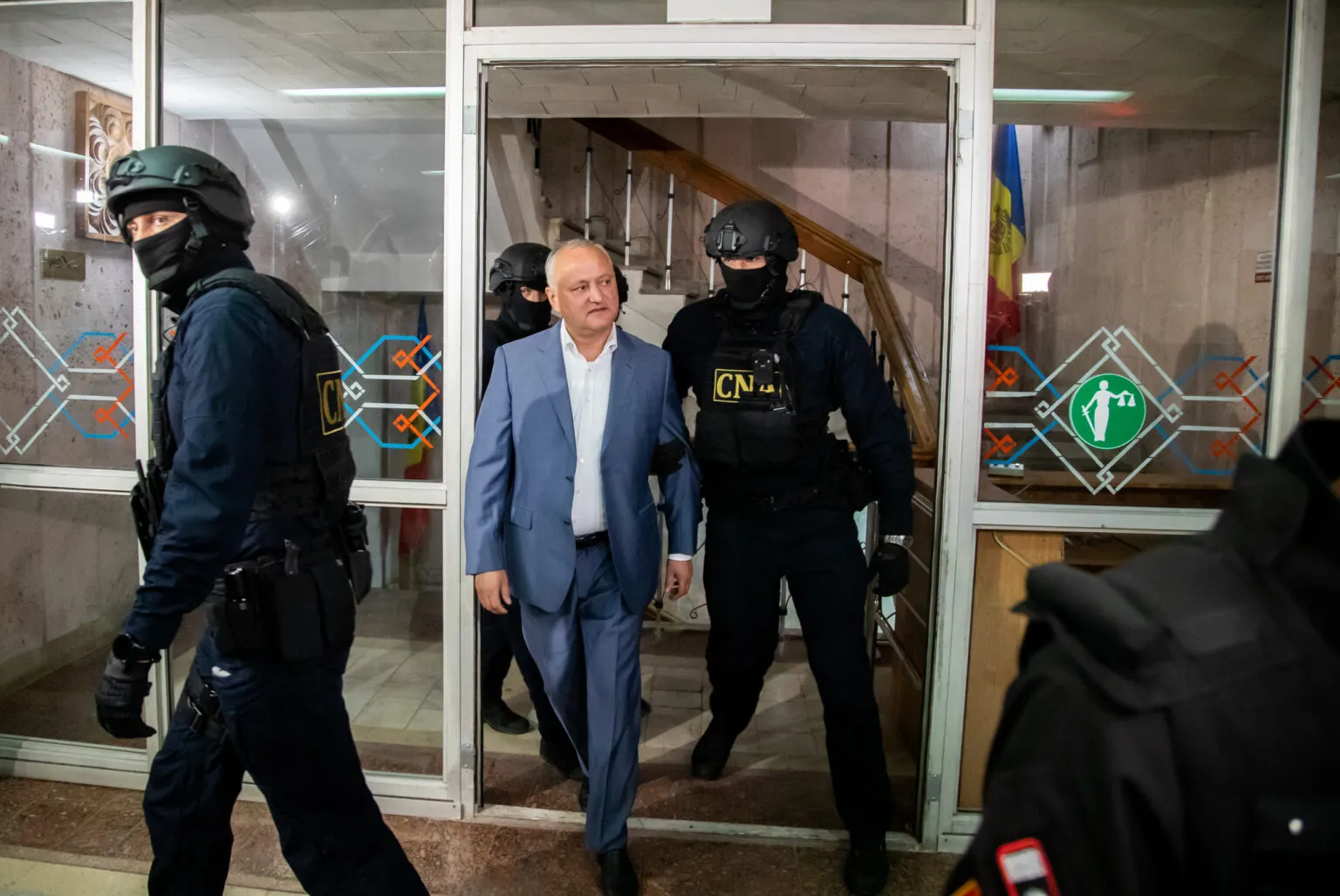 The Audiovisual Council (AC) penalized four TV channels for various violations in their coverage of events in the case brought against former President Igor Dodon and his wife Galina Dodon. Thus, Exclusiv TV and Accent TV were issued public warnings under several law clauses for stories about the detention of Igor Dodon, while NTV Moldova and Primul în Moldova were fined 25,000 and 10,000 lei, accordingly, for stories about Galina Dodon.
The monitoring report (covering May 24 through 26) on Exclusiv TV and Accent TV was prepared earlier, but its examination was postponed at the request of the said media suppliers. These two channels have been monitored following AC member Ruslan Mikhalevsky's self-notification in relation to several TV channels. NTV Moldova and Primul în Moldova came under scrutiny based on a notification filed by WatchDog.md.
At the July 8 meeting, AC members first examined the monitoring report on Exclusiv TV and Accent TV's coverage of the search and detention of Igor Dodon, after the editors had previously asked AC to postpone their examination. The monitoring showed that Exclusiv TV violated the provisions on ensuring a clear distinction between facts and opinions. Thus, the May 24 newscast included a story about the detention of Igor Dodon in which the reporter said that Zinaida Greceanii, leader of the Bloc of Communists and Socialists parliamentary faction, called for consolidation and dialogue and called on President Maia Sandu to prove that she was the president of the entire country and not just one political party. However, AC experts noticed that, based on the story's quote, her speech was addresses to all politicians, and not directly to Maia Sandu. "Apparently, the journalist had not made a clear distinction between facts and opinions," said Victoria Stetcaia, head of the radio broadcasting monitoring department, adding that news releases on Exclusiv TV were borrowed from NTV Moldova without a proper note about it.
As for Accent TV, it was found that they had borrowed videos from other TV channels without making a proper notice. At the same time, according to AC, Accent TV aired a story about prosecutor Petru Iarmaliuc who is investigating Igor Dodon's case, in which four people commented on his lack of experience in investigating such cases, while his own remark was missing from the story.
Exclusiv TV representatives told AC that they had correctly informed the public in the story in which Zinaida Greceanii was quoted, since it is clear from the full speech which is available on Privesc.eu that she also addressed the country's President: "Therefore, the reporter's message that the chairperson of the BCS parliamentary faction called for consolidation and dialogue and called on the head of state, Maia Sandu, was correct. Such a statement has indeed been made." At the same time, the channel's management said that they agreed with the report's conclusions on airtime given to various political figures and that "they would do their best to present opinions in equal time frames." In relation to the material about prosecutor Petru Iarmaliuc Accent TV's management noted that they will not allow such violations in the future and that changes are currently taking place in the editorial office under strict control. As for videos being borrowed from the Primul în Moldova channel without any reference to the source, it was explained that both TV channels have a single news department for a number of reasons, including financial issues.
Ruslan Mihalevschii noted that, according to his analysis, almost half of the airtime of all targeted news broadcasts concerned the detention of Igor Dodon, and three-quarters of this time was given to socialists criticizing this event. He also said the views of the President's office and the US Embassy which are accused by Igor Dodon were missing.
Therefore, both TV channels received a public warning for rebroadcasting videos without specifying the source and for failing to comply with the requirements for proper coverage of a fact or event and impartial and conscientious presentation of verified information. Exclusiv TV also received a public warning for not balancing opinions.
NTV MOLDOVA AND PRIMUL ÎN MOLDOVA FINED MDL 25,000 AND MDL 10,000, ACCORDINGLY
Another issue considered by AC members concerned the news about the case of Galina Dodon. According to WatchDog.md, on June 13, both NTV Moldova and Primul în Moldova aired similar stories about Galina Dodon being summoned to the prosecutor's office. The authority claims that the story included Igor Dodon's post on the topic, while failing to provide the reply of the President's Office or the Prosecutor's Office which are both accused by the former head of state.
AC's monitoring showed that there was no reply from the Prosecutor's Office in the mentioned story broadcast by NTV Moldova. The institution's representatives did not respond to messages and phone calls. AC confirmed that exactly the same material was aired by Primul în Moldova, but without reference to the source. According to AC's experts, the story did not include the view of President Maia Sandu who is accused by Igor Dodon of being involved in the case.
NTV Moldova's management claimed that the Prosecutor's Office failed to answer the journalists' questions to comment on the situation. As for video rebroadcasting, the channel explained that it has faced "a serious crisis in the media market and a considerable drop in all revenues", which is why news releases are produced jointly with Telesistem SRL (Primul în Moldova).
Consequently, NTV Moldova was fined MDL 25,000 and Primul în Moldova was fined MDL 10,000 for repeatedly violating the principles of impartiality and balance by mainly presenting the views of persons in opposition. Primul în Moldova also received a public warning for failing to specify the source of rebroadcast material.