News
Survey Media Azi // Is the electronic signature an obstacle to obtaining information of public interest?  Journalists' answers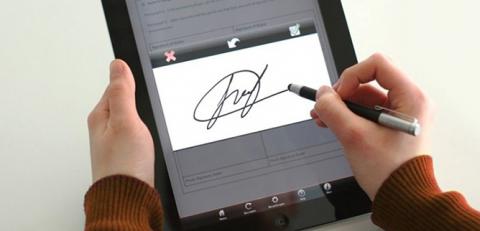 Electronic signatures are an obstacle to accessing public information only "in some cases", according to a survey distributed by Media Azi to journalists in several editorial offices. Although a good proportion of respondents have an electronic signature, they do not necessarily use it to sign requests for information. On the other hand, those who do not have one cite the difficult procedure for obtaining one as the most common reason.
According to the answers to the Media Azi survey, half of the respondents have an e-signature (52%). Out of these, six respondents indicated that they have never used it to sign requests for information. Some specified that they use it to sign tax returns, while others said they send requests by e-mail without a signature.
Eight people answered that they use it as needed. "One month I can sign five applications, another month none," according to one respondent. In other cases, a weekly or monthly frequency was mentioned, "sometimes a few times a day, sometimes once a week or less often", as well as cases that concern only certain authorities – Public Service Agency, Security and Intelligence Service, Prosecutor's Office.
Some respondents note that they do not have time to sign electronically. Among other reasons for not using the electronic signature, seven respondents mentioned the difficult procedure for obtaining it, and four said they did not see the need for it.
70% of respondents to the survey say that e-signatures are an impediment to accessing public information "in some cases". Seven journalists answered "never" to this question and one respondent ticked the option "all the time".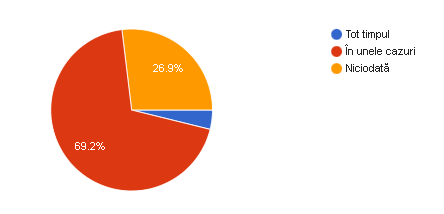 WHAT SUGGESTIONS DO JOURNALISTS HAVE CONCERNING THE MANDATORY USE OF ELECTRONIC SIGNATURES
Some respondents mentioned in the survey that they do not consider it necessary to encourage the use of electronic signatures and do not understand why they would need it as long as they are accredited journalists. "Authorities abuse when they ask for electronic signatures. It should not be mandatory for journalists to receive information of public interest. In general, anyone who needs public information should request it without an electronic signature," says in one of the answers.
"Surely it should not be mandatory to apply an electronic signature to requests for information. At present, the signature is an impediment for many journalists to request information of public interest. Most journalists still do not have mobile/electronic signatures. This costs money and time. On top of that, not all mobile operators offer the Unite/Moldtelecom mobile signature)," it is stated in another answer.
Two other respondents likewise consider that electronic signatures should not be mandatory, but note that they "facilitate the transmission of documents" and that having one should be "an advantage in obtaining information of public interest".
Some journalists said that the electronic signature should be free of charge for journalists "because they use it by virtue of the need to obtain information of public interest, not for personal use".
One person was optimistic about the future of the electronic signature in the work of journalists: "I am sure that journalists will adapt to new technologies, worse for civil officials who have to give answers. They have to invoke various impediments".
According to the law on electronic signature and electronic document, the qualified advanced electronic signature has the same legal value as the holographic signature. The Administrative Code provides that petitions (requests for information are qualified as petitions) must contain the signature of the petitioner or his/her legal representative or authorised representative, and in the case of a petition submitted in electronic form – the electronic signature.
IJC questions were answered by 26 representatives of media institutions from the editorial offices of Albasat TV, Radio Moldova, Independent Press Association, CU SENS media project, Journalistic Investigation Centre, Expresul.md, Realitatea.md, Jurnal TV, MoldovaCurata.md, Moldova.org, Newsmaker.md, Rise.md, Europaliberă.org, Sor TV and Radio Soroca, SănătateINFO.md, Tuk.md, TVR Moldova, Ziarul de Gardă, Zonadesecuritate.md, Nokta.md, Esp.md.