News
The BC Confirms That Accent TV and Primul in Moldova Have a New Administrator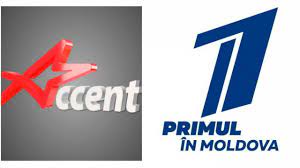 Accent TV and Primul in Moldova channels have changed their administrator. This information was confirmed for Media Azi by the Broadcasting Council, which was notified of the amendments on Friday, September 23.
According to the letter dated September 22 and received by the BC from the Telesistem TV Company, the owner of Accent TV and Primul in Moldova channels, "the administrator of Telesistem TV S.R.L. was changed since September 19, 2022." The letter is signed by Arina Corsicova, the company's new administrator.
The confirmation was received after the press drew particular attention to political aspects of the transaction in question on the media market in the last two days. The publications had such headlines as "Two TV Channels Previously Controlled by the Socialists Are Currently under Sor's Control. Primul in Moldova and Accent TV Have Changed Their Management" (Newsmaker.md); "The Pro-Russian Reshuffle on the Moldovan TV Market. Ilan Sor Takes Control of Primul in Moldova and Accent TV Channels" (Replicamedia.md); "Two TV Channels Owned by a Company from the Russian Federation are Currently Controlled by Ilan Sor" (Zdg.md).
According to the Newsmaker.md article, Arina Corsicova is presumably connected with the Sor Party. Referring to the open sources, the portal claims that, in 2015, Corsicova was one of the donors involved in the electoral campaign of Ilan Sor, the head of the party. Ziarul de Garda wrote that Moda-Prestige, the company owned by the woman, also sponsored the campaign. Diafan, another company she owns, was a shareholder of Banca Sociala, a bank controlled by Ilan Sor. At that time, the company had a 4.96% stock of shares in the bank.
The sources of NewsMaker.md recall that, in June, the two TV channels allegedly fired some of their employees due to lack of money. Media Azi wrote about the fact that Primul in Moldova and NTV Moldova broadcast the same newscasts with the same hosts simultaneously or at different times. The channels' representatives explained it by reduced income. Currently, Primul in Moldova and Accent TV supposedly try to bring the staff back.
Media Azi tried to contact Arina Corsicova to confirm or deny the claims, but she did not answer any of the phone numbers in the affidavit of the Telesistem TV Сompany registered by the Broadcasting Council. When asked by our portal whether Primul in Moldova and Accent TV channels were currently affiliated with the Sor Party, Alina Sargu, the press secretary of the party, said she had no information about the transaction: "I know nothing, having such information is beyond my scope, and I don't even know the new administrator."
According to the data, two citizens of the Russian Federation, Natalia Ermilova and Samvel Grigorean, who own equal shares of 50% each, remain the final beneficiaries of Primul in Moldova and Accent TV channels.